Best lip gloss: Our favourite lip glosses from Fenty, NYX, Glossier and more
3rd July 2020 | Author:
Nina Nagel
Matte lips are so 2019. This year, it's all about choosing the best lip gloss with glitter and shine.
Yep, the 1990s glossy lips are well and truly on-trend and we have selected our pick of the best lip glosses on the market to suit different styles and budgets.
Before we dive into our best lip gloss list, we do need to address one particular myth that seems to follow lip glosses around on the internet…
Is lip gloss whale sperm?
We can't believe we're writing this sentence, in 2020, but to be absolutely clear – no, lip gloss is not made of whale sperm, nor does it contain it as an ingredient.
There's a very strong chance that this myth has originated from the fact that part of a sperm whale – not whale sperm – was used in the early days of cosmetics but not only has that practice stopped, it means that it was never the actual sperm of a whale used for such beauty products.
Today's lip glosses and lip balms vary in what they are made of, from natural oils to vegan waxes and synthetic ingredients, but none of them, not a single one, contains whale sperm.
---
Best lip gloss
WANT TO KNOW MORE? Best concealer | Best makeup brush | Best foundation brush | Best eyeshadow palette | Best foundation | Best foundation for dark skin | Best foundation for oily skin | Best foundation for dry skin | Best contour kit | Best lip gloss | Best lip liner | Best mascara| Best primer | Best highlighter | Best brow pomade | Best blusher | Best setting spray|
---
1. Editor's Pick: Fenty Beauty Gloss Bomb Universal Lip Luminiser
£17 | Buy now from Boots
Why we love it: All of the products in Rhianna's Fenty Beauty range have been designed to be inclusive and cater to different skin types and tones, and her lip gloss doesn't disappoint.
Originally available in three shades, this lip gloss is now sold in five variations – Diamond Milk (a milky pearl colour), Fenty Glow (rose nude), Fu$$y (soft pink), Glass Slipper (clear), Hot Chocolit (shimmery brown) and Sweet Mouth (pearlescent peach).
You may think this makes this lip gloss range less versatile than others in this list yet Rihanna's team reportedly spent a vast amount of time making sure that across the line, there would be a colour to suit every lip shade.
A truly one-size-fits-all formula.
That's not to mention the fact that each of these lip glosses contain shea butter to condition and hydrate the lips, and the formulation is not sticky. A rarity in the best lip gloss circles.
You'll be hard-pressed to not suit these flattering nude-roses, so get yours now for £17.
FURTHER READING: How to get bigger lips naturally
Buy now from Boots
---
2. Best lip gloss on a budget: NYX Filler Instinct Gloss
£6.50 | Buy now from NYX
Why we love it: NYX Professional Makeup is one of our absolute favourite cheap makeup brands and you'll find many of its products in our Best Buy lists.
Its Filler Instinct lip gloss is both cheap – at just £6.50 – and available in five shades including champagne, rose gold, bronze gold, copper gold and plum rose gold, plus a clear version. Each one serves sheer to medium coverage due to its built-in tint.
The shades vary from vibrant to more subtle, but they all promise to leave you with soft, kissable lips.
And if you're not sure which one you need, or which one best suits your skin tone, you can use the Virtual Try-On tool available on the NYX Professional Makeup site.
Buy now from NYX Professional Makeup
---
3. Best luxury lip gloss: Dior Addict Lip Maximiser
£28 | Buy now from Boots
Why we love it: An absolute classic that will never go out of style is the Dior Addict Lip Maximiser.
Its formula contains hyaluronic acid – one of the most en vogue, versatile ingredients in cosmetics and skincare today – to keep your lips moisturised and plumper, which gives this lip gloss a volume-maximising appearance.
There are seven colours to choose from, including:
01 Pink: light pink
04 Coral: bright coral
06 Berry: plum
07 Raspberry: pink raspberry
09 Holo Purple: light purple
10 Holo Pink: bright coral pink
12 Rosewood: rosewood
This lip gloss isn't cheap but if you've been thinking about investing in some higher quality products lately, this is a great, multi-purpose lip gloss to start with.
See our science of moisturiser article or our What is hyaluronic acid guide? for more info.
Buy now from Boots
---
4. Glossier Lip Gloss
£11 | Buy now from Glossier
Why we love it: Glossier is staying true to its minimalistic style with its best lip gloss, which the brand claims to be the glossiest!
Available in just three shades – red, holographic and clear – you do sacrifice versatility for its lower price but it contains Vitamin E to help your lips stay soft throughout the day and it's perfect for any occasion, especially when worn over your favourite lipstick.
It also uses conditioning Jojoba oil to help the gloss go on smoothly, and spread evenly, without feeling overly sticky or gloopy.
You can buy this best lip gloss for £11 individually, or pay £28 for a limited time for all three shades.
Buy now from Glossier
---
5. Rimmel Oh My Gloss! Oil Tint
£5.99 | Buy now from Boots
Why we love it: Another brilliant lip gloss that doesn't break the bank is Rimmel's Oh My Gloss! Oil Tint.
Its name comes from the fact it contains a blend of coconut, pomegranate, Abyssinian and daikon radish seed oils and because it tints your lips with one of six colour options – Glossaholic (coral pink), My Eternity (deep rose pink), Ooh La La (bright pink/red), Purrr glossy cat (light pink), Snog (orange/red) and Stay My Rose (pale pink). Plus there's a clear version.
It has a non-sticky, lightweight formula that gives a cushiony-soft feel that lasts up to six hours. All for just £6.49.
Buy now from Boots
---
6. MAC Lipglass
£16 | Buy now from MAC
Why we love it: MAC's brilliant Lipglass is an OG when it comes to lip glosses.
Available in a wide range of highly versatile shades – 38 in total from coral to nude to holographic and shimmery purple – there is something here for almost every skin tone and not for an extortionate price, either. You can also filter this selection by hues, choosing between berries, nudes, pinks and reds.
It has a glassy high-gloss finish – hence the name – without feeling too sticky, which is always a plus.
Buy now from MAC
---
7. Marc Jacobs Enamoured Hi-Shine Lacquer
Why we love it: You wouldn't really expect a lip gloss to be one of the most long-lasting products within your makeup routine yet that's exactly what Marc Jacobs' Enamored Hi-Shine Lip Lacquer achieves.
Its unique formula makes it last on your lips longer than your regular ol' gloss – that promises all-day wear – and it has a subtle mint scent which is both pleasant and a little tingly, in a good way! This, coupled with its range of 27 shades, goes some way towards justifying this lip gloss' price of £22.
Also FYI, this lip gloss has won a series of beauty awards.
Buy now from Harvey Nichols
---
MORE LIKE THIS
---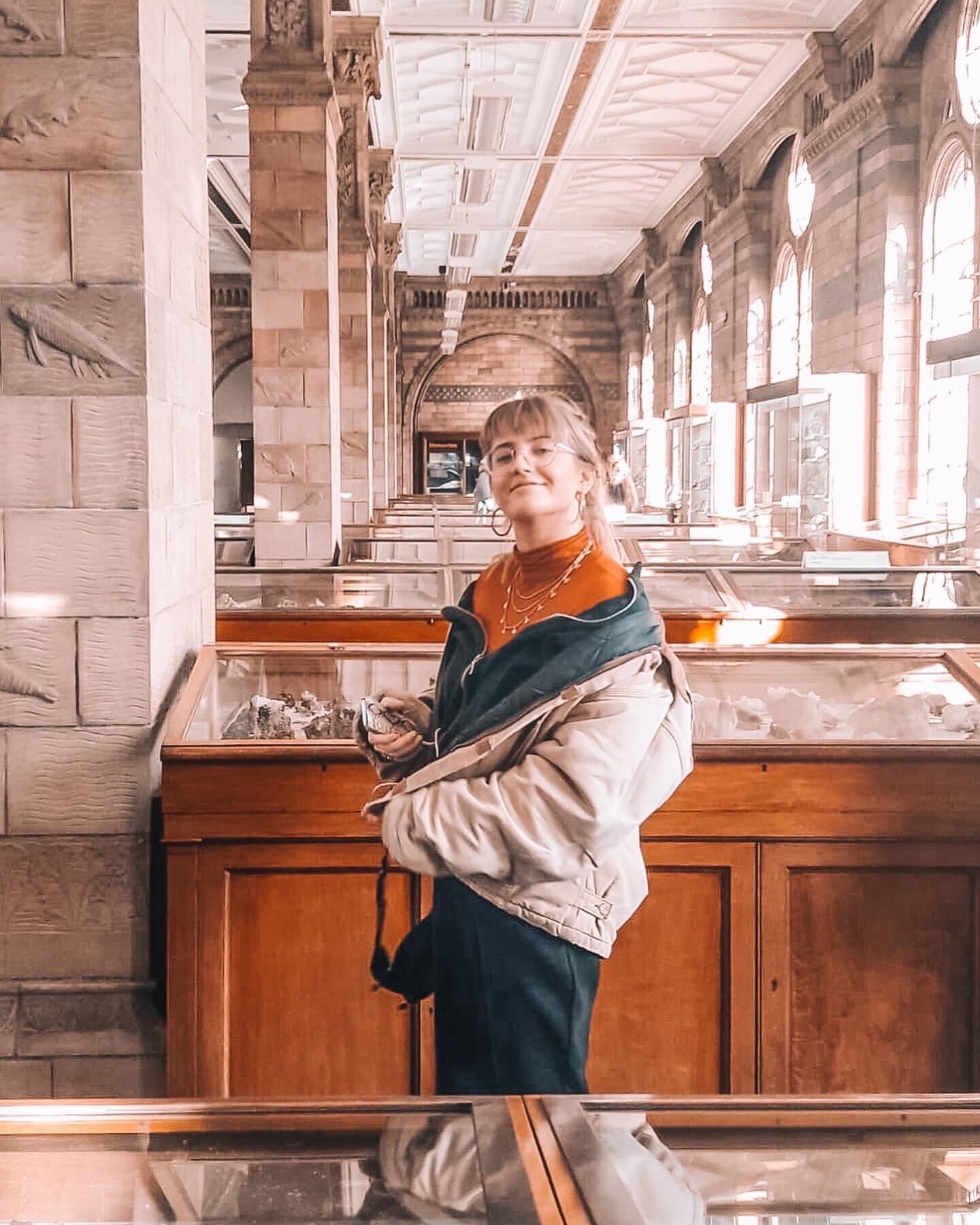 Raised between Germany and Italy, Nina is currently living in London studying towards a Masters in Human Rights at University College London and working as a freelance writer. She recently graduated from Bournemouth University in Multimedia Journalism where she wrote her dissertation on the representation of female political leaders in the tabloid media. Politics aside, she has a passion for everything fashion and beauty related