What colour lipstick suits me? Makeup artists reveal how to choose the best shades for your skin tone
12th September 2021 | Author:
Phee Waterfield
The best lipstick shade, or lipstick and liner combo, can make or break a look.
The right lippy will take us from day to night, it can brighten our smile and is often the only makeup we need to face the outside world.
Yet choosing the right shade for your skin tone can be a minefield. Even nude lipsticks vary wildly in pigment, shade and tone and it can sometimes feel as confusing as trying to finding the perfect foundation match.
Fear not! We've put together a how-to guide, breaking down which lipstick shades best suit which types of skin tones. We spoke to Sean Maloney, a celebrity makeup artist and owner of SM Academy and SMEyelashes, as well as media and special effects makeup pro Cydney Beasley to get the lowdown.
FURTHER READING: Best lipstick: From nude to red and liquid to matte, here are our favourite lipsticks
---
What lipstick colour suits me?
Before we breakdown which colours suit which skin tones, it's worth explaining how to tell what undertone you have.
This forms the basis for the entire colour makeup theory and knowing whether you have warm, cool or neutral skin – and if you have peachy or yellow undertones – can completely revolutionise your foundation, lipstick and eyeshadow choices.
READ NEXT: How to apply lipstick like a pro
We explain this in more detail in our guide to finding the perfect foundation match but in summary:
In natural lighting, look at the veins on your wrist.
If they appear green, you have warm skin
If they appear blue or purple, your skin is cool
If you find it hard to tell, your tone is likely to be neutral
Repeat this by putting on a piece of gold and silver jewellery.
If the gold jewellery looks better against your skin, you have a warm skin tone
If the silver jewellery looks better, your skin tone is cool
If both colours suit you, your tone is most likely neutral
Finally, in natural light, hold a white piece of clothing next to your skin, followed by an off-white piece of clothing.
If you suit the pure white clothing, you have warm skin
If the off-white clothing looks better, your tone is cool
If both suit you, your tone is most likely neutral
---
♥︎ Light skin: Pinks and nudes
If your skin is on the pale or light side, you can get away with a wide selection of nude colours, particularly pale pinks, beige and light nudes.
"Warmer undertones suit more peachy or coral shades," explains Cydney Beasley. "Cooler undertones suit more light browns and nudes."
We recommend trying the Laura Mercier Rouge Essentiel Silky Crème Lipstick in shade Brun Pale (£26), if you're on the cool side.
For those warm tones, try the Illamasqua Antimatter Lipstick in shade Amplifier, currently priced at £10 at LookFantastic.com (50% off). 
"Cooler skin can look really washed out when warm tones are used, and warm tones on cool skin can emphasise shadows," added Cydney. "These tones can also make people look skeletal."
If you're stuck for ideas on how to use these shades, Sean Maloney recommends a statement nude lip combination: "A soft milk chocolate brown lip pencil with a beautiful peachy nude buffed into the centre." To achieve this look, try the peachy nude, Chanel Rouge Coco in shade 432 Cécile.
If you don't fancy keeping your lips nude and want a bolder lip, MAC Cosmetics has a great lipstick shade finder on its website.
For light skin colours, its Dare To Bare range offers some great options including the Retro Matte Liquid Lipcolour in Shade Cavier (£19) and the Matte Royal Lipstick in Shade Deep Blue (£17.50).
FURTHER READING: How to try makeup on online: We review the best virtual try on tools from MAC, Maybelline, NYX and more
---
♥︎ Gold and bronze skin: Red and Purples
For our golden and bronzed skin readers, opt for shades including bright red, berry and mauve purple shades.
"For warmer skin, use more orangey tone shades like an orange-red or dark coral," advises Cydney. "For cool tones, use a darker purple or a blue-toned red."
Charlotte Tilbury's lipstick shade finder tool is great for allowing you to choose your desired finish and skin tone.
For warmer tones, the Hollywood Screen liquid lipstick in shade Screen Siren (£25) would work well. Sean told us that this matte look will give that "glam feel" especially if you're going for a red carpet look.
Cooler skin tones can turn to the Hot Lips lipstick in Hel's Bells (£25).
FURTHER READING: Best red lipstick: Master red lipstick looks with the best from MAC, Maybelline and Charlotte Tilbury
---
♥︎ Dark skin: Go bold
With darker skin tones, going bold works wonders. In fact, the bolder, the better. "A true orange or a true purple look really good," says Cydney.
However, there is still room to go wrong with lipstick shades.
'Some people just need to be careful as some colours can make very black skin look grey," she warns.  "Some colours will make a darker skinned person appear very red too."
If you have red undertones, use warmer colours such as the Frost Lipstick in shade Bronze Shimmer (£17.50).
While people with grey undertone, dark skin should use cooler colours. Cydney reccomends the MAC Cosmetics Powder Kiss Lipstick in the shade Ripened (£17.50).
---
♥︎ Mature skin: Line and gloss
In addition to choosing the best colour lipstick for your skin tone, if you're on the more mature side we recommend lining the lips first and finishing with gloss.
This isn't just reserved for older people – and you can read more in our How to get bigger lips naturally guide – but the best lip liner stops lipsticks from leaking into fine linkes and wrinkles around the mouth.
Sean also told us that using the best lip gloss over other finishes of lipstick will give you a plump, "youthful boost."
---
Don't miss out! Sign up for the mamabella newsletter today
---
MORE LIKE THIS
---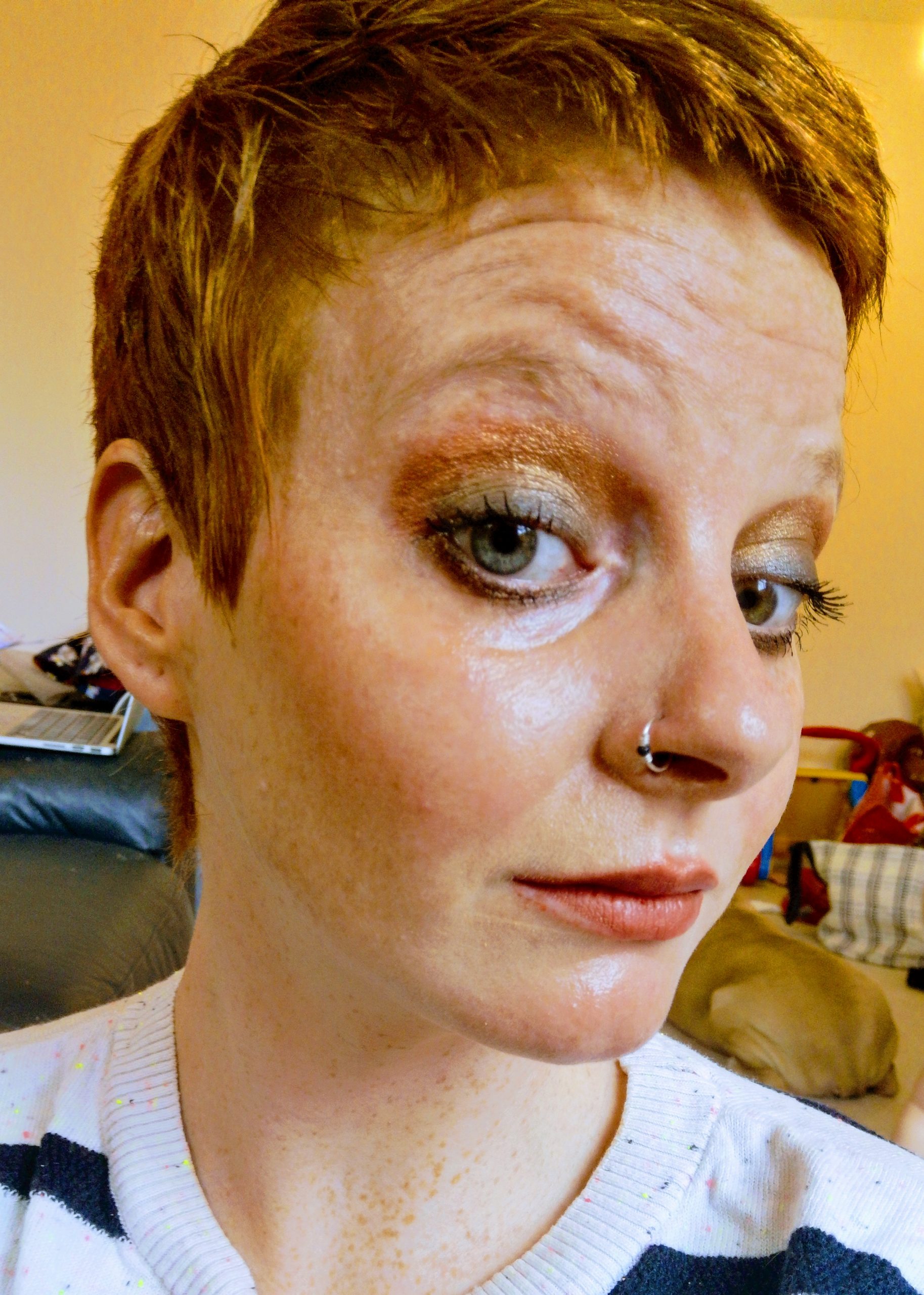 Sophia is an international journalist covering technology, healthcare, culture and lifestyle. Her words appear in outlets such as Newsweek, Forbes, Metro UK, New Scientist and more