Spotlight on…e.l.f, the vegan boss of the makeup and skincare world
12th August 2020 | Author:
Nina Nagel
---
UPDATE: Multiple Grammy-award winning singer Alicia Keys is teaming up with e.l.f Cosmetics to launch a brand new vegan, cruelty-free beauty line set to debut in 2021.
The brand, and the singer, have not revealed much beyond this but the collection is set to "comprise skin-loving, dermatologist approved, cruelty-free products that encompass multiple beauty categories."
"We are beyond thrilled to leverage our strengths to help realise Alicia's vision, as it not only aligns with our mission to make the best of beauty accessible, but infuses it with an even deeper dimension," said e.l.f Cosmetic chairman and CEO, Tarang Amin.
We'll update this page as and when we know more.
---
Original e.l.f Brand Spotlight continues below
e.l.f. is an American company based in Oakland, California. Its name stands for eyes, lips, face and it really delivers on making anything you might need; from makeup brushes and various tools to skincare and of course makeup. The brand is well known for its amazingly cheap products, which are sold in 18 countries worldwide.
It's one of our favourite cheap makeup brands and, as a result, is the latest to feature in our Brand Spotlight series.
READ NEXT: Best discounts for NHS workers
Over the coming weeks and months, we're going to be shining a light on brands that represent and align with what we stand for at mamabella – brands that offer great products at low prices; brands which champion inclusivity and diversity; clean, sustainable and ethical beauty brands, and brands that are challenging the beauty industry hierarchy.
We've previously taken a look at The Ordinary and Carbon Theory, both affordable but science-led skincare brands offering fantastic products. Elsewhere, we've taken a look at makeup brands Revolution and NYX also outlined what we consider to be the best cheap makeup on the market.
e.l.f: A brief history
e.l.f. was founded by Joseph Shamah and Scott Vincent Borba in 2004 after meeting at a party two years prior. They connected over the mutual feeling of there being a gap in the market for high-quality yet super-cheap cosmetics.
READ NEXT: How to get flawless skin
More than half the company's sales come from its website, which doubles as a social networking site with more than two million members. Its products have appeared frequently in top-class publications and websites including Glamour, Allure, Self, InStyle, The Telegraph and Good Housekeeping.
Why we love e.l.f
All e.l.f cosmetics are 100% vegan and cruelty-free, globally. The brand also supports PETA's no-fur campaign and was recently crowned PETA's top cruelty-free cosmetics company in the annual Libby awards.
On top of that, its products are free from anything bad for your skin – that is free from phthalates, parabens, nonylphenol ethoxylates, triclosan, triclocarban, and hydroquinone. All its skincare is also free from sulfates.
READ NEXT: Is your makeup a health risk?
The best e.l.f products
---
e.l.f Bite-sized eyeshadow
£3 | Buy now from e.l.f
Who's it for?: Anyone looking for a purse-sized answer to eyeshadow on the go.
Why we love it: Not only is the packaging of this eyeshadow palette bite-sized, but the price is too! With four different shades, you are paying less than £1 for each! They're available in eight different colourways, so there's a set for everyone and every occasion. Plus, they're an amazing dupe for the pricey Natasha Denona Palette 5s.
READ NEXT: The mamabella guide to colour theory
How to use it: Use a primer to prep your eyelids for application. Mix and match colours and apply to your eyelid using an eyeshadow brush.
Buy now from e.l.f
---
e.l.f Beauty shield magnetic mask kit
£30 | Buy now from e.l.f
Who's it for?: Anyone who wants to lie back, relax and give their skin a good pampering session.
Why we love it: This is one of the only few e.l.f. products on the "pricy-er" side (if you want to call it that), but have you seen how cool it is? It literally lifts impurities out of your skin with the help of an iron-based formula and magnetic tool. No wonder it was the winner of the 2018 Glamour Beauty Awards!
READ NEXT: What does clean beauty actually mean?
How to use it: Use the scoop provided to apply the mask to the face, avoiding the eye area. Leave on for 5-10 minutes and then use the magnetic end of the tool to slowly lift the mask away from the skin. For top results, use twice a week and follow with serum and moisturiser.
Buy now from e.l.f
---
e.l.f  Professional set of 12 brushes
£14.50 | Buy now from e.l.f
Who's it for?: Anyone just starting out with makeup, this has the basics covered.
Why we love it: The set includes seven brushes for eyes and brows, four face brushes and one lip brush. They are made with all synthetic bristles and are perfect for beginners who are looking to get some basic tools.
READ NEXT: A beginner's guide to makeup brushes
How to use it: Use the eye brushes to apply different styles of eyeshadow and eyeliner. Look to the brow brushes to define and perfect those brows, while the face brushes will make blush, bronzer and contour a breeze. Finally, look to the lip brush to apply liquid lipstick or to even out and neaten up previously applied lip colour.
Buy now from e.l.f
---
e.l.f Flawless concealer
£5 | Buy now from e.l.f
Who's it for?: Anyone looking for a satin-finish concealer that blurs imperfections.
Why we love it: Available in 18 shades and a range of undertones, this concealer is super buildable, which is great if you are someone who doesn't really use foundation and trust your concealer to do all the heavy lifting. Its satin finish is especially great for all of us oily skin gals. It's infused with squalane, which helps to moisturise and hydrate the skin.
How to use it: Use the doe-foot applicator to apply directly onto areas you need coverage and proceed to blend out using warm fingers, a sponge or stipple with a brush. Finish by setting with powder.
Buy now from e.l.f
---
e.l.f Jet Set hydration kit
£16 | Buy now from e.l.f
Who's it for?: Anyone looking to restore some of that much-needed hydration lost during travel (not that we're doing much of that at the moment!)
Why we love it: Not only is it super affordable, but this kit is ideal for on the move, with each product in easy-to-transport, mini sizes. It means there's no panic at airport security when you realise your bottles are too big. E.l.f's skincare is reliable and kind to the skin, formulated using cruelty-free and nourishing ingredients.
READ NEXT: What's the difference between vegan and cruelty-free?
How to use it: Use the cleanser to remove dirt and impurities with warm water. Use the prep and hydrate to tone the skin and follow with the moisturiser. Gently dab the eye cream over eyelids and under eyes to relieve any tiredness and apply the night cream just before bed. A perfect routine for long flights.
Buy now from e.l.f
---
Don't miss out! Sign up for the mamabella newsletter today
---
MORE LIKE THIS
---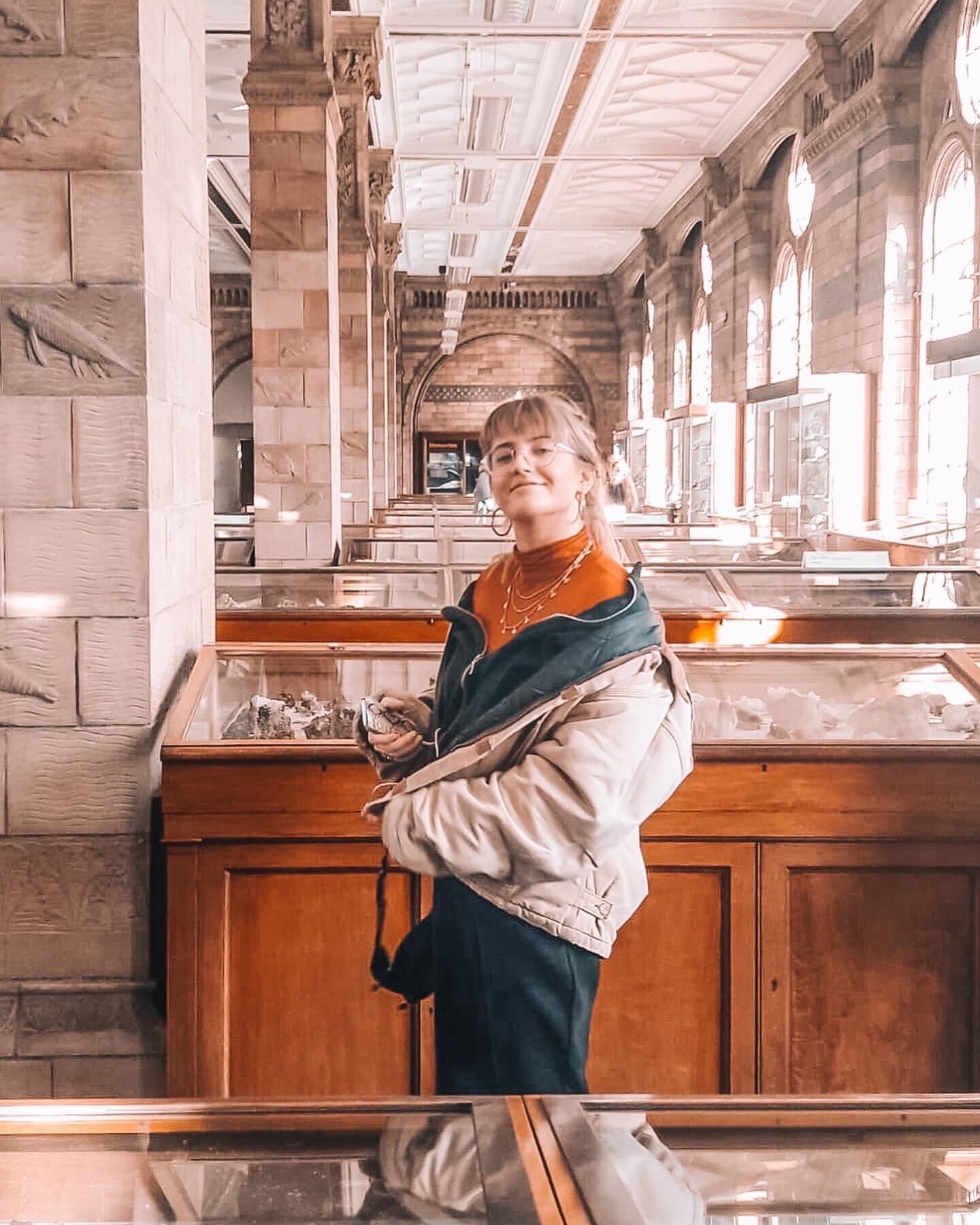 Raised between Germany and Italy, Nina is currently living in London studying towards a Masters in Human Rights at University College London and working as a freelance writer. She recently graduated from Bournemouth University in Multimedia Journalism where she wrote her dissertation on the representation of female political leaders in the tabloid media. Politics aside, she has a passion for everything fashion and beauty related