For some of us, a skincare ingredient checker is a nice-to-have tool that helps us live more sustainably, or avoid certain products like palm oil.
Yet for others – women who are pregnant or breastfeeding, for example, or people with eczema and allergies – it can prove vital. What's more, you can use skincare ingredient checkers to compare products to see which are worth your money.
There has been a rising trend of products that are a lot more explicit about which skincare ingredients are inside. This is particularly in the case of retinol, for instance, which needs to be used with a reasonable degree of care.
Some of these – particularly those from The Inkey List and The Ordinary – are even named after these ingredients. However, the vast majority of skincare brands don't label their products in this way.
Plus, there are typically a whole host of other ingredients in each product that have long chemical names that can be confusing, and a little overwhelming.
FURTHER READING: 
---
Skincare ingredient checker
To help you decipher what these long names mean, and how they could impact your skin and wider wellbeing, we've listed two of our favourite skincare ingredient checkers below.
We've also started running a series of Ingredient Spotlight articles, which look in more depth at the most popular and common of these ingredients. We will be adding more to our skincare glossary at the bottom of this page as the series continues.
---
Skincare Ingredient Checker: INCI Decoder
The INCI Decoder is an absolute godsend when it comes to checking what ingredients are in your skincare and cosmetics.
INCI stands for International Nomenclature of Cosmetic Ingredients.
It's a list of standardised names for cosmetic ingredients published by the Personal Care Products Council. You can think of it as using the Latin name for an animal with its commonly used name.
For example, the INCI name of argan oil is "argania spinosa kernel oil", whereas table salt has the INCI name "sodium chloride".
To use the INCI skincare ingredient checker, start by entering a specific product name, or you can search by ingredient.
The INCI Decoder will then pull up either all the ingredients within your selected product, or it will explain more about the benefits of your chosen ingredient. In the case of product searches, there is then a super handy, table where each ingredient is categorised and given an irritation, and comedogenic rating (where appropriate).
Ingredients with high irritation ratings are more likely to cause irritation, based on scientific reviews, and are less suitable for people with sensitive skin or rosacea, for example.
Ingredients with high comedogenic ratings are more likely to clog your pores. This can lead to breakouts and makes the products less suitable for people with acne-prone or oily skin.
Where a rating is shown within a range i.e 0-3, it means that the ingredient in question can cause irritation/comedones but it depends on how much of the ingredient is used, and how high up in the ingredient list it falls. In our example, the worst-case scenario is that it has a rating of 3 but it may also have a zero rating. In this case, these ratings should be used as a guide only.
The INCI Decoder categories are as follows:
Superstars: Superstar ingredients are those which have been well-studied, are well-understood, and perform well on the skin.
Goodies: Goody ingredients are those which have been studied and are largely considered to be beneficial to the skin.
Icky: Icky ingredients are those which may cause issues with certain skin types. Examples include fragrances and other possible irritants. An icky category doesn't mean those ingredients will cause problems for every one but they are ingredients that you need to be aware of. Especially if you have sensitive skin or allergies to certain ingredients.
In this way, you can see at a glance if there are any ingredients in a product that may be a bit dubious, and those which should be fine. You can also click on individual ingredients to learn more about them if you're unsure.
As with everything, this skincare ingredient checker is a guide and what works for one person may not work for another, and vice versa.
FURTHER READING: The truth about the acids lurking in your skincare – from hyaluronic, to glycolic, lactic and salicylic
---
♥︎ Skincare Ingredient Checker: CodeCheck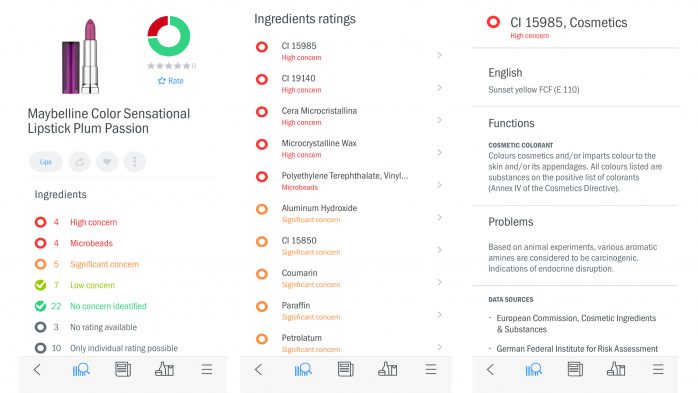 CodeCheck is a brilliantly insightful app. It not only reveals what's in food and cosmetic products, by scanning the product's barcode, but it flags up any ingredients that you may want to steer clear of. Ingredients such as palm oil, hormones, animal by-products, and so on. It can also reveal lifestyle and nutrition data to help you avoid gluten, lactose, and other allergens.
If you don't have the barcode, or you're more interested to see all the products from one brand, in particular, you can browse CodeCheck's database of products before you buy an item to check its rating.
Each listing is shown with an at-a-glance pie chart within the search results that show the number of safe or standard ingredients (represented in green) and the number of ingredients that you may not want to use (represented in red).
The actual listing then uses a traffic-light system to show high-concern ingredients and standard ingredients. Clicking on an ingredient reveals what it is, why it's listed as a high-concern and what scientific data this is based upon.
For each product, the app recommends a safer, cleaner, or more conscious alternative. You can read more about this in our Clean beauty: What are clean beauty products and how can I shop more consciously? guide.
FURTHER READING: What's really in your foundation? The chemicals you need to look out for
---
Skincare A-Z: Ingredient glossary
If you want to know more about the most popular, individual ingredients (or ingredient groups) found in your skincare, we've started listing them below. We're going to be adding to this list weekly, as part of our wider Ingredient Spotlight series, so check back to learn more as the weeks go by.
A is for…
♥︎ AHA (Alpha Hydroxy Acids)
What are they? Alpha hydroxy acids, or AHAs, are used for chemical exfoliation. The acids remove dead skin cells to leave brighter skin, clear pores and reduce wrinkles
What do they appear as on the skincare ingredient checker? AHAs in skincare include Citric acid, Glycolic acid, Lactic acid, Tartaric acid.
Recommended products: The Ordinary: Glycolic Acid 7% Toning Solution (£6.80), The INKEY List: Alpha Hydroxy Serum (£8.99), Nip + Fab: Glycolic Fix Daily Cleansing Pads (£16.95).
---
B is for…
♥︎ Bakuchiol
What is it? Naturally found in the leaves and seeds of the Psoralea corylifolia plant. Bakuchiol is a natural alternative to retinol, offering the same anti-ageing and skin firming benefits without the downsides of retinoids – redness and sensitivity to sunlight. This means bakuchiol is more gentle on the skin of people with eczema and rosacea. It's also safe to use during pregnancy and breastfeeding, whereas retinol is not. You can read more about this in our What skincare ingredients to avoid when pregnant or breastfeeding guide.
Recommended products: Boots Ingredients Bakuchiol Serum (£5), Revolution Skin 1% Bakuchiol Serum (£9.99), Oleus Bakuchiol Serum (£19.99)
---
♥︎ BHA (Beta Hydroxy Acids)
What are they? While AHAs exfoliate the upper layers of your skin, which helps generate collagen production and reduce the appearance of fine lines and wrinkles, BHAs work a little deeper. By penetrating further into the skin, they're most effective for unclogging blocked pores, remove dead skin cells and reducing redness to leave your skin looking clearer and brighter.
What do they appear as on the skincare ingredient checker? BHAs in skincare include Salicylic acid
Recommended products: CeraVe Smoothing Cleanser (£11), Revolution Skincare Targeted Blemish Serum 2% SA (£8), Paula's Choice Skin Perfecting 2% BHA Liquid Exfoliant (£28)
---
C is for…
♥︎ Caffeine
Just like caffeine in coffee and other products can give your brain a boost, when caffeine is applied to the skin, it stimulates and soothes your skin. This means it's great for reducing the appearance of puffiness around the eyes and tackling dark circles.
Recommended products: The Ordinary Caffeine Solution 5% + EGCG (£5.80), Q+A Caffeine Eye Serum (£6.50), The Inkey List Caffeine Eye Cream (£8.99). You can read more about the former in our The Ordinary Caffeine Solution review. 
---
♥︎ Ceramides
Ceramides are lipids (fats) found naturally in high concentrations in the uppermost layers of our skin. In fact, they're so vital, ceramides make up more than 50% of our skin's composition.
Not only do they hold the building blocks of skin together, but they form a protective layer that helps prevent moisture loss and protects against pollution. They are also incredible anti-ageing products, said to perform more effectively than the likes of retinol, niacinamide, and peptides.
Despite their importance, ceramides tend to get less attention than these other ingredients but there are a couple of brands that shine a spotlight on them. The first, and most notable, is CeraVe. The "cera" in the brand's name comes from the fact each of its formulas relies heavily on ceramides.
The second is The Inkey List. This super affordable brand sells the 3% Ceramide Night Treatment. It's ideal for dry skin but is also great at repairing and hydrating all skin types.
As the brand explains: "This powerful, overnight mask works to hydrate parched skin whilst ensuring skin is nourished and visibly plumper when you wake up. The ceramide strengthens the skin's barrier by forming a protective layer that limits moisture loss, and the multi-molecular hyaluronic acid hydrates deeper into skin's layers. A real overnight hydration dream team, ceramide complex and HA. The ultimate hit of hydration."
---
D is for…
♥︎ Dimethicone
If you've ever used a Smashbox primer, you'll be familiar with the skincare ingredient dimethicone. It's what gives its Photo Finish primer, in particular, such a smooth and matte finish (you can read more about this in our best primer list). Dimethicone is a synthetic polymer of silicone and an emollient.
It evens out skin texture and leaves it feeling soft and smooth because it seals the space between dead cells on the top layer of the skin. It's popular in makeup, in particular, because it doesn't mix with sebum – the substance that makes your skin oily. This means it helps keep your face shine-free. Dimethicone is also found in many moisturisers and lotions.
Dimethicone gets a bit of a bad rep because it's been linked to clogging pores and causing spots. This is because of the way it seals pores. However, this has also been largely debunked and it depends on the person's skin, their skincare routine (as in, do they remove the product with dimethicone properly), and the product being used. Dermatologists recommend trying any product for the first time on a small patch of skin to see how it reacts.
---
E is for…
♥︎ Vitamin E
OK, so this skincare ingredient *technically* begins with a V. Well, to be even more specific, it begins with a "T" because Vitamin E is the name given to the family of compounds that are biochemically characterised and named tocopherol.
Vitamin E is thus called because it was the fifth vitamin to be identified and classified; the "E" doesn't stand for anything. It is an important antioxidant that dissolves in fat and protects the skin from free radicals.
Antioxidants are the molecules, found naturally in our bodies, that keep free radicals in check. These are single, unstable split electrons that can be created when our bodies take in oxygen. At a moderate, regulated level, free radicals help give us energy and boost the immune system.
However, when the levels of free radicals get too high or the antioxidants are too low, through exposure to smoking, alcohol, pollution, fried foods, and more, this hunting process can damage our cells. You can read more about antioxidants and free radicals in our guide: Skin food: The best foods for clear, healthy skin – and why they work.
When it comes to skincare, Vitamin E creams and cleansers help restore the skin at a cellular level from sun damage, and they help support the natural healing process for scars or burns. Vitamin E also helps strengthen skin barrier function and is a natural anti-inflammatory, so it can be soothing and help calm the skin.
Recommended products: The Body Shop Vitamin E range, The Inkey List Vitamin B C And E Moisturiser (£4.99), Super C15 Serum (£7.49)
---
F is for…
♥︎ Ferulic Acid
Ferulic acid is a common skincare ingredient found in anti-ageing products. As an antioxidant, it fights the free radicals that are linked with premature ageing – including wrinkles and age spots – and it's available as both a supplement, as well as in serums.
It's very commonly found in serums along with other antioxidants, especially Vitamin C. As you can read in our guide to Vitamin C, it helps protect skin from UV damage and air pollution. It's not an SPF – so don't skip on sunscreen – but it can help limit the damage.
It evens out skin tone, roughness, fine lines, acne scars and dullness and does this by accelerating the production of collagen and elastin, however, it's not very stable.
Its quality degrades quickly, especially when exposed to sunlight so ferulic acid helps stabilise it while also increasing its ability to minimise sun damage. In fact, when combined with Vitamins C and Vitamins E, ferulic acid has the potential to offer twice the amount of this so-called photoprotection.
Recommended products: Super C15 Serum (£7.49), The Ordinary Resveratrol 3% + Ferulic Acid 3% (£5.50), Typology Antioxidant Serum 3% Ferulic Acid + 3% Resveratrol (£29.70)
---
G is for…
♥︎ Glycolic Acid
Glycolic acid has become a skincare staple in recent years and it's touted as a miracle cure for acne and breakouts. However, it's much more versatile.
Found in sugar cane and fruit acids, glycolic acid is one of the smallest molecules that forms part of the AHA (alpha-hydroxy acid) family.
It exfoliates the skin much more gently than abrasive scrubs and because it's water-soluble, it can penetrate deeper into the skin to renew new skin cells.
Due to its rise in popularity, and its versatile nature, you can buy a whole host of products that contain glycolic acid including peels, cleansers, toners, serums, and masks. At various price points. However, because it does penetrate the skin you need to make sure that you introduce it to your routine slowly. Especially if you have sensitive skin. There is also the chance that it will cause skin purging, which is a temporary but annoying side effect.
We also recommend that you use an SPF after using glycolic acid to protect it from skin damage.
Recommended products: REN Clear Skincare – Micro Polish Cleanser (£23), The Ordinary: Glycolic Acid 7% Toning Solution (£6.80), Pixi: Glow Tonic (£18)
---
H is for…
♥︎ Hyaluronic Acid
Of all the acids found in skincare, the one that is almost ubiquitous these days – and the one you may well have heard most about – is hyaluronic acid.
It's a sugar that is found naturally in our skin cells and it holds on to water. It's what helps keep our skin hydrated and plump and, just like collagen, it too decreases as we get older (read more in our How your skin changes in each decade of your life – and what to do about it guide.)
This causes skin to become drier which in turn makes it saggy and makes fine lines and wrinkles more apparent. It can also lead to dull skin.
When you use skincare – or any beauty product for that matter because hyaluronic acid is also found in makeup – the wonder ingredient acts as a magnet for moisture. This helps your skin cells to retain as much moisture as possible, both generally and from the product, and this is meant to leave your skin feeling hydrated, plump, and smooth.
Recommended products: The Ordinary Hyaluronic Acid 2% + B5 Hydration Support Formula (£5.90); Hada Labo Super Hydrator Lotion (£16.95); Vichy Minéral 89 HA Booster (£25)
---
I is for…
♥︎ Isoparaffin
Isoparaffin is a mineral oil derived from petroleum. It's used as an emollient to keep skin feeling and looking smooth. It also acts as an occlusive agent – which means it forms a protective layer on the surface of the skin and stops the skin's natural moisture from evaporating. It also increases skin hydration by causing a build-up of water in the stratum corneum (the uppermost layer of skin).
Due to this, isoparaffin is perfect for dry, flaky skin, and as a result, it's found in a huge range of products from moisturisers to lip balms, sun creams, hair conditioners, and more. Although it doesn't cause blockages in the skin or pores directly, it can lead to congestion in people with acne. You can read more in our guide to non-comedogenic makeup and skincare.
---
J is for…
♥︎ Jojoba Oil
Jojoba oil – which isn't actually an oil, and is instead a 'wax ester' – helps to hydrate the skin to leave it feeling and looking soft and smooth.
It acts in a similar way to our own skin's natural oils, which it's great for balancing oiliness while providing antioxidant benefits, and it's rich in vitamins and minerals that nourish hair, including Vitamin C, B Vitamins, Vitamin E, Copper, and Zinc.
What's more, the ester contains antimicrobial and antifungal properties and while it doesn't kill all bacterial and fungal species, it kills those associated with salmonella, an E. coli infection, and candida. The latter means that if you're prone to irritation in and around your vagina, jojoba oil shouldn't make things worse.
Beyond the skin, jojoba oil is also found in conditioners because it gives added protection against dryness, breakage, and split ends, as well as helps soothe dandruff. Because it strengthens hair, it is also thought jojoba oil can prevent hair loss and promote hair thickness.
Recommended products: Phoenix And Providence Soothe Hand And Body Balm (£12); Superfluid So Far So Smooth Oil (£24); Mineral Baked Blush (£29)
---
K is for…
♥︎ Kaolin Clay
Kaolin clay – also known as white clay or magnesium silicate – is a soft clay found either naturally, or produced in a lab. It's an absorbent ingredient used in face masks to target excess oil, blackheads, and shine and give smoother, more mattified skin.
Although it's most commonly found in face masks, it can also be used in cleansers as well as serums. In fact, anything that's designed to get rid of excess sebum and balance the moisture in the skin could, theoretically, including kaolin.
---
L is for…
♥︎ L-ascorbic Acid
L-ascorbic acid, more commonly referred to as Vitamin C, is what's known as an antioxidant. This means it neutralises free radicals in the body, which in turn protects your cells from damage. You can read more about free radicals and antioxidants in our skin food guide. 
As a result, L-ascorbic acid protects the skin from UV damage and air pollution. It evens out skin tone, roughness, fine lines, acne scars and dullness. And it does all this by accelerating the production of collagen and elastin.
Technically, L-ascorbic acid is the most stable and effective form of Vitamin C which is why you'll find it in serums and creams.
Recommended products: Kiehl's Powerful-Strength Line-Reducing Concentrate (£52), The Ordinary Ascorbyl Glucoside Solution 12% (£8.90). See more product recommendations in our guide to the best Vitamin C serums.
---
M is for…
♥︎ Methylparaben
Methylparaben is less an ingredient used to directly improve skin condition, and more a preservative found in thousands of skincare products to extend their shelf-life. As you can read in our Does makeup go off? guide, all products have a set shelf life at which point the ingredients start to degrade.
Unless you have particularly sensitive skin or a skin condition, this degradation shouldn't cause any adverse effects, but it can do. It also does mean those products will no longer work as well as they should.
Methylparaben preserves skincare because it helps prevent fungus growth and has antibacterial properties. As a result, it's fine to use with other ingredients but it may cause a reaction if you have particularly sensitive skin, or if you suffer from eczema.
---
N is for…
♥︎ Niacinamide
Niacinamide is a form of Vitamin B3 – the best vitamin known to heal and soothe the skin. Research has shown that niacinamide can help treat skin conditions including acne and eczema.
It can also help build proteins in the skin to lock in moisture and prevent damage. You can find out more about this in our What is niacinamide and what does it do to your skin? guide.
Recommended products: Q+A Niacinamide Daily Toner (£8); Revolution Skincare Niacinamide Tonic (£9.95); The Ordinary Niacinamide 10% + Zinc 1% (£5)
---
O is…
♥︎ Olive Oil
Instead of being a skincare ingredient – although it can, of course, make its way into products – olive oil is a great skincare treatment in its own right. Obtained by pressing the oil out of whole olive fruit, the oil is rich in skin-loving antioxidants.
It not only helps prevent water loss, but it can protect skin cells against environmental damage and inflammation, which also means it's a good weapon in the fight against wrinkles and fine lines. It also helps treat redness and irritation.
This is before you even factor in that olive oil is rich in Vitamins A, D, K and E, as well as squalene. It's a wonder ingredient that is likely sat in your kitchen cupboard already!
---
P is…
♥︎ Polyhydroxy Acid
Polyhydroxy Acid, or PHA, repairs the skin and exfoliates away dead cells to help reduce the appearance of damage. PHAs have a larger structure than other hydroxy acids – including those we've listed previously in this guide. This means they don't penetrate the skin as deeply which makes them great at clearing the outer layers.
As a result, PHAs are well suited for people with acne and excess oil.
---
Q is…
♥︎ Quercetin
Quercetin is a plant pigment found naturally in fruits, vegetables, and plants. It's particularly found in berries and broccoli, green tea leaf, and moringa leaf and can be taken as tablets or through creams and serums.
What's known as a flavonoid, quercetin helps reduce the harmful effects of UV radiation because it's both an antioxidant and anti-inflammatory. This also means it's great at fighting free radicals.
---
Don't miss out! Sign up for the mamabella newsletter today
---
MORE LIKE THIS
---