How to apply eyeshadow: Learn how to do eyeshadow like a pro with our expert tutorial
1st May 2020 | Author:
Victoria Howe
If you're anything like us, you go to YouTube or Instagram with all good intentions of learning how to apply eyeshadow, and you come away completely baffled and none-the-wiser.
This isn't because the influencers are doing anything wrong or bad, per se, it's because no matter how hard we try, we can never get our eyeshadow looks to even closely resemble those we see online.
READ NEXT: Best eyeshadow palettes
To find out why, and get advice on how to do eyeshadow like a pro, we've enlisted expert help. In the latest in our Ask the MUA series, our resident makeup artist Victoria Howe, owner and Chief Makeup Artist at Victoria Howe Make Up reveals her top eyeshadow tutorial tips.
She's also tailored her advice for two of the typically most difficult eye shapes to master – monolids and hooded – further down this page. For further inspiration, follow Victoria's incredible looks on her Instagram page, @victoria_howe_makeup.
---
How to apply eyeshadow
Before you even attempt to learn how to apply eyeshadow, you need to get to know your eye shape. So often, looks you see on influencers look drastically different when you try them at home because your eye shapes differ. This means the same techniques won't always work and will need to be adapted. This is particularly true for eyeliner, for example, but is just as relevant when finessing eyeshadow looks.
MAMABELLA PRO TIP
We're huge fans of cheap makeup. Very often we'll find a cheap (or at least cheaper) alternative to premium brands that perform just as admirably, if not better.
We do make a couple of exceptions though – when choosing the best makeup brushes and deciding on the best eyeshadow palettes.
Good brushes and good palettes will serve you well and are a great investment if you want to nail your eyeshadow looks.
Cheaper brushes won't last as long or allow you to blend as well, while cheaper palettes tend to be less pigmented and will fade on the eye much quicker.
They also create more fall or drop, which is when excess powder lands on your cheek.
There are six common eye shapes: monolids, round eyes, almond eyes, downturned eyes, upturned eyes, and hooded eyes and the best way to get to know which category your eyes fit into, Google each, sit in front of a mirror and get familiar with it.
Every eye shape has different tips and tricks for getting the most out of your eye makeup and if you really want to nail your eye looks, this is the single most important thing you can do!
How to do eyeshadow
Before you start applying eyeshadow, prime your eyelids. In the same way primer for the rest of your face is designed to make sure your makeup doesn't gather or crease, the same applies for your eyelids.
In fact, it's even more important because of all the folds and creases you have on and around your eyes.
A good eyeshadow primer provides longevity and negates much of the need for retouching throughout the day.
We also recommend you set your primer with a base shade similar to your skin tone.
We're fans of the NYX Professional Makeup Eye Shadow Base (£6.99), the Urban Decay Eyeshadow Primer Potion (£19.50) and the Bobbi Brown Long-Wear Eye Base (£21).
You can use traditional face primer but eyeshadow primers have been designed specifically for the thinner, delicate, creased skin on your eyes so you may not get the same end result if you use the former.
Choosing the best eyeshadow palette for your eye colour
When looking how to apply eyeshadow, many people concentrate on technique without realising that the colours you choose can make a huge difference to the overall look. Even with the best technique and brushes, many makeup artists can create average looks because the colours don't suit the wearer.
To help you understand more about this, we've created a couple of guides on colour theory. The most important is our What eyeshadow goes with your eye colour? guide.
It explains why orange works so well with blue eyes, as an example, or what colours to use to bring out the different shades in hazel, or grey eyes. We should also mention that your eyebrows can make a big difference to your overall look and finish. Shaping your brows frames your eyes and draws attention to your eyeshadow.
They also draw the eye across the eye area, which makes it seem larger. You can read more with Victoria's guide on How to do eyebrows.
Step-by-step eyeshadow tutorial
As a general rule of thumb, use a lighter shade on the lid and a darker shade in the crease and outer V.
Dark colours attract light, while lighter hues reflect it, so placing a darker tone of eyeshadow in the crease of the eye makes your eyes pop by adding depth and dimension. Always do your eyeshadow with both eyes open.
♥ Step 1. Using an eyeshadow brush, sweep a light base shade over your eyelid. You can bring this base colour all the way up to your brow bone, in preparation for a more dramatic look, or you can stop at the crease for a more subtle everyday look. Take a look at our best makeup brushes page for recommendations.
♥ Step 2. Using a smaller eyeshadow brush, to give you more precision, sweep a darker shadow in the crease of your eye, following the shape of your eye between your brow bone and eyelid. This will typically involve following the line of your eye socket before extending the shadow outwards, in line with your eyebrows.
READ NEXT: What eyeshadow goes with YOUR eye colour?
♥ Step 3. You can also bring this darker shadow, or an entirely different dark colour, at an angle from the end of this initial line towards the corner of your eye. Create a V shape in which the V is on its side and the point of the V is pointing up and out.
♥ Step 3. An optional step is to add shimmer, glitter or a light colour from the inner corner of your eye towards the centre.
♥ Step 4. Another optional step, but one that can really enhance your look is to line your lashes with a darker shadow or eyeliner.
♥ Step 5. Blend, blend and blend some more. At every step, we recommend you blend the different colours you're applying together. Blending simply means softening the edges of each colour, and blending the tones into one another. When you think you've blended enough…blend some more! An expert tip is to blend with a small amount of the lighter shade you chose, known as the transition shade, to help bring the colours together.
♥ Step 6. Highlighting the brow bone and inner corner, even with just a gentle highlight, will take your eye look from a five to a 10.
Expert tip: If you want to intensify the pigment of any eyeshadow, using white pencil or shadow underneath, or lightly wetting the brush first will work really well.
How to do eyeshadow: Monolids
Preparation is key, not just in terms of using eye primer but also by taming your eyebrows and curling your lashes. Never underestimate the value of well-groomed brows to set the eyes off and, because monolids tend to pair with very straight lashes, curling them will open up the eyes.
We also highly recommend that people with monolids opt for waterproof products where possible. Smudging is a common problem with monolids so waterproof liner and mascara is absolutely key.
♥ Step 1. People with monolids need to wear eyeshadow higher up the lid. Not just the base shade, but each of the colours being used. Otherwise, all of your hard work will disappear when your eye is open! Softer mid-tone colours work well for everyday looks, and are very wearable for most eye colours/shapes. Don't be afraid to up the ante with brighter, bolder colours if that's your thing though.
♥ Step 2. Make good use of liner, but apply it with a wing that is concentrated at the mid-to-end point of the eye to elongate, shape and lift the eye. Instead of then extending the line from the wing across your entire lash line, tightline in order to add volume to the lashes without taking up lid space.
You can read more about tightlining in our best eyeliner guide, but in summary, it means to use eyeliner beneath your upper lashes – where your eyelid meets your eyeball – instead of above the lash line.
♥ Step 3. An artist tip for creating the illusion of definition to monolids is to apply a shimmery shadow to the middle part of the eyelid, in a typical halo type eye makeup. The light bounces off from the centre, which brings that part of the eye forward and gives the illusion of a typical shaped eye.
How to do eyeshadow: Hooded eyes
Hooded eyelids, unfortunately, mean that eye makeup is more likely to crease so taking the time to properly prep the eyes with a good eye primer is even more important for this eye shape.
♥ Step 1. Use a light colour on the inner corner and under the lower lash line – this creates the illusion of bigger eyes.
♥ Step 2. Use darker shades on the outer corner of the lid, just under the brow bone and along the very top of the crease to create the illusion of depth.
♥ Step 3. Tightline, rather than use thick eyeliner. Winged liner can sink below the lower lash line, which pulls the eye downward and makes eyes look saggy.
♥ Step 4. Create your own crease by applying a darker matte shade in the socket of the eye, just above where your natural crease is, with a fluffy brush. Add a lighter shade above the newly created crease, all the way up to the brow bone.
---
Don't miss out! Sign up for the mamabella newsletter today
---
MORE LIKE THIS
---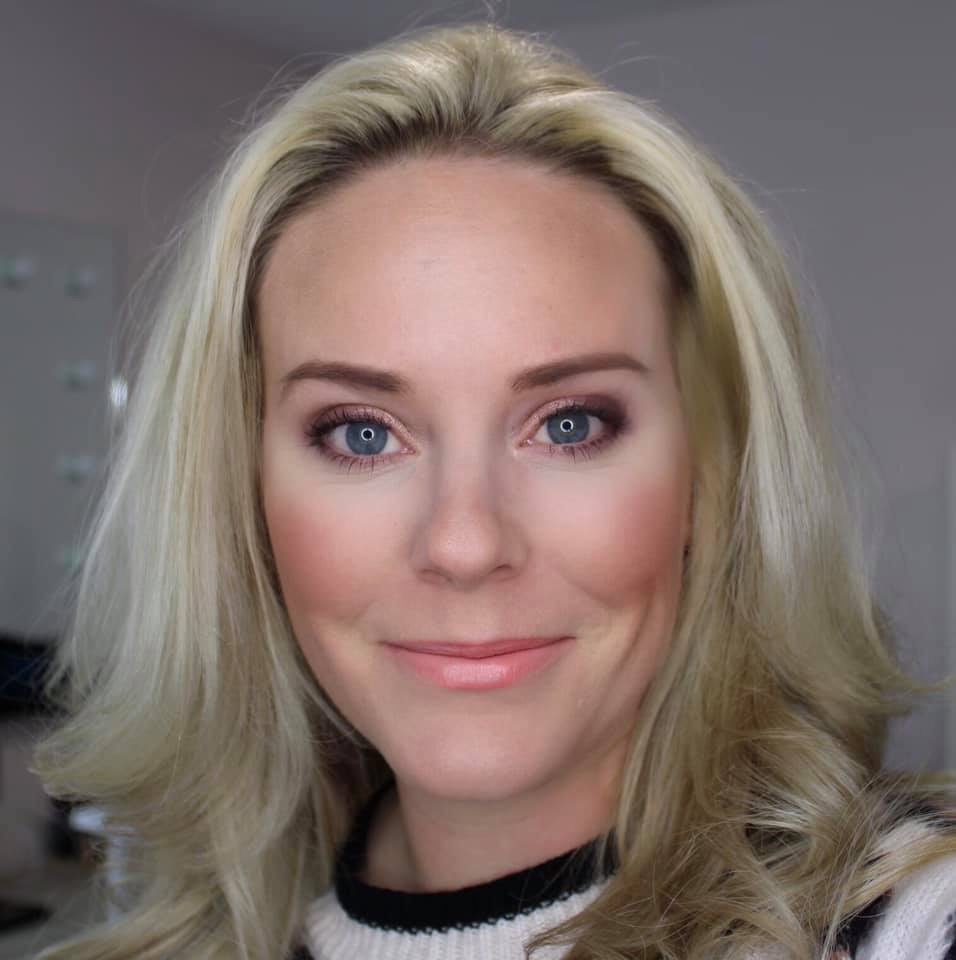 Victoria is Chief Makeup Artist and founder of Victoria Howe Make Up. After graduating from The Academy of Freelance Makeup in Soho two years ago, Victoria now owns and runs her own studio called The Beauty Barn in Havant specialising in helping women of all ages feel beautiful