Here are our favourite eyeshadow looks for different eye shapes from the cut crease to a smokey eye
6th September 2020 | Author:
Nina Nagel
There are literally millions of eyeshadows looks being shown off on a daily basis by beauty influencers across YouTube, Insta and Facebook, yet many of them fall into one of six main techniques.
From sharp cut creases to soft smokey looks, once you've nailed these basic eye makeup looks, the only limit is your imagination.
We do, of course, use the word "basic" loosely because these techniques are from easy. If they were, there wouldn't be as many tutorials as there are teaching people how to master them. Remember, there's a reason why people are called makeup artists. 
READ NEXT: Best eyeshadow palettes
We should also point out that these eyeshadows will look different depending on your eye shape. There are six eye shapes and certain eyeshadow looks are easier – or harder – based on which you have.
This also influences how you do eyeliner, among other things, so it's worth reading our What eye shape do I have? guide to find out which will suit you best.
There is obviously nothing wrong with sticking to what you know, but mixing up your eyeshadow looks can enhance your eye colour, make your eyes look bigger, and even help you look younger – or more awake!
Below we've outlined some of the main eyeshadow techniques from some of our favourite influencers and brands to help give you some eyeshadow ideas and to help you nail the techniques, we recently spoke to leading makeup artist Victoria Howe to learn how to apply eyeshadow for different eye shapes.
Plus, check out our best eyeshadow palettes list, and our What eyeshadow goes with your eye colour? guide. 
---
♥︎ Eyeshadow Looks: Cut Crease 
No matter if you're going for the soft cut crease look or the full shebang, this technique will always make your eyes stand out.
It is especially great for people with hooded eyes or monolids as it creates the illusion of a deeper eye socket by drawing on a fake – and if you really want it to pop, then exaggerated – crease.
The technique behind this look involves applying eyeshadow all over before using concealer to block out certain parts of the eye. You then put a lighter, or different colour, eyeshadow where you've put concealer to create a sharp definition between the two colours.
Nikkitutorials is the queen of this technique and uses it in a lot of her videos, so we thought you should learn from the best. In this video she also only uses affordable products which is a bonus.
Her looks are pretty full on and if that isn't up your street, you can just tone down the colours by using nudes and browns instead.
One of our favourite cheat products is The Crease Piece, which makes it easy to get started with this technique.
mamabella tip: Another way to know where to put your crease is to apply concealer along your eyelash line before looking up. This will transfer parts of the concealer onto your eyelid where your eye naturally creases. You can then use that as a guiding line for your cut crease.
---
♥︎ Eyeshadow Looks: Deep Smokey Eye
Let's face it, there are so many variations of the smokey eye, and even a sexy bronze smoky eye can be either edgy and glam or more of a blended golden look.
Regardless of which style you prefer, a sexy bronze smoky eye complements almost all eye shapes. It is an especially great technique for hooded eyes as it doesn't have to be super precise and can be smudged as much as you prefer.
Use matte shadows and a good primer to make sure the look stays in place. This style also does wonders for monolids, to give you more definition across your eyelid.
The eyeshadow tutorial below will give an idea, but don't be afraid to use it just as a starting point and make the eyeshadow look your own.
mamabella tip: We find using a large, fluffy blending brush on the outer corners helps create a deep and sweeping smoke. It's not particularly precise but you can either leave it fully smoked out, or use concealer to create a sharp line that lifts the eye and accentuates the colour.
We highly recommend the £8 Morphe M518 Crease Fluff brush. In fact, we highly rate Morphe brushes generally.
---
♥︎ Classic Nude Smokey Eye
Everyone loves a classic nude smoky eye.
It's probably the first makeup many of us first started to experiment with.
The classic eyeshadow look is achieved by adding a medium brown shade – or any dark shadow – in either a matte or shimmery finish (depending on your personal preference) to the entire eye-lid plus a slightly darker shadow in the outer corner of the eye.
Now blend, blend, blend with a blending brush to open up the eyes and accentuate your beautiful shape. Almond-shaped eyes best complement this look, but really anyone can rock the classic nude smoky eye. If you're unsure which blending brush to buy, check out our guide to the best makeup brushes. 
You can accentuate the effect by putting a white eyeshadow or highlighter along the brow bone.
It differs from the deep smokey eye because the transition is more subtle. This makes is suitable for work or daytime events. You can then increase the intensity of the smoke for the evening to have a true day-to-night smokey eye.
---
♥︎ Eyeshadow looks: Cat Eye
Sometimes a simple clean-cut perfect cat eye is all you need to make your make-up stand out.
Although finding the right winged liner shape for your eye takes practice as it really depends on every single detail of how your lids are formed, it is a staple technique it is useful to master.
A cat eye with a darker colour in the corner of the eye definitely benefits close-set eyes the most as it balances out the eye shape.
For downturned eyes (that is when the outer corner droops slightly), it is best to go for a pearly shadow paired with a matte medium tone to blend and to top it all off the liner.
The cat-eye really complements downturned eyes as the eyeliner flick lifts the outer corners if angled well.
The video below might help, and one of our favourite cheat products, called The Quick Flick, takes the hassle out of the whole thing.
mamabella tip: If you can't get on with liquid eyeliner, but you find pencil liners don't offer a sharp-enough line, try using a flat definer makeup brush and a dark eyeshadow.
We recommend the £6 Morphe Pro Flat Liner Definer. Dip the brush in your eyeshadow of choice and simply press the flat edge on your eye to create a straight line and build your wing. You can then smoke this line out, or use concealer to make it super sharp.
---
♥︎ Feline eyes
This may not be a longstanding classic eyeshadow look but it has been growing in popularity in recent years and is a major trend for 2020.
It's called the feline eye because of the shape of the eyeshadow. It resembles the Feline Flick created by eyeliner (which get its name from the shape of cat's eyes) and while it looks easy, it can be a bit tricky.
It's a lot less fiddly than others in this list but you need to make sure you manage the shape and the blending.
Using a small, precise eyeshadow brush, we recommend that Morphe E14 Oval shading brush, dab the single colour in the shape that you want it before using a blending brush (such as the Morphe M441 Pro Firm Blending brush) to sweep and soften the colour around the edges. `
---
♥︎ Focus on bottom lash line
Let's get real: do you sometimes forget about your bottom lashes when it comes to an eyeshadow look? Or do you even choose to neglect them on purpose?
Well, for this eyeshadow idea you definitely won't forget about them as it's all about making the bottom half of your eyes pop with colour. This is particularly powerful if you're opting for a strong eyeshadow look (like the cut crease or the deep smokey eye) as it helps draw attention to your eyeballs.
If you use a colour that suits your eye colour, this will also make your eyes look bigger. Read more in our What eyeshadow goes with your eye colour? guide.
Making your lower lash line stand out with, for example, a tropical teal liner or a neon tone is especially great for people with deep-set eyes. If you don't have much experience with experimenting with colour, we recommend watching this eyeshadow tutorial.
---
♥︎ Simple liner and white on waterline
Round eyes can wear any eye make-up, but what looks especially good is some simple liner and white kajal on the waterline.
This is where a white pencil is used on the inside of your lower lashline. Prime your eyelid with a nice nude tone shadow beforehand and you're good to go.
This doesn't just work on large, round eyes. This is a look that suits any eye shape, especially if you're feeling a little extra tired because that white waterline really will make you look fresh and awake instantly. You can also use a cream or beige eyeliner to make the impact less noticeable.
This tutorial is useful to help nail this look:
---
Don't miss out! Sign up for the mamabella newsletter today
---
MORE LIKE THIS
---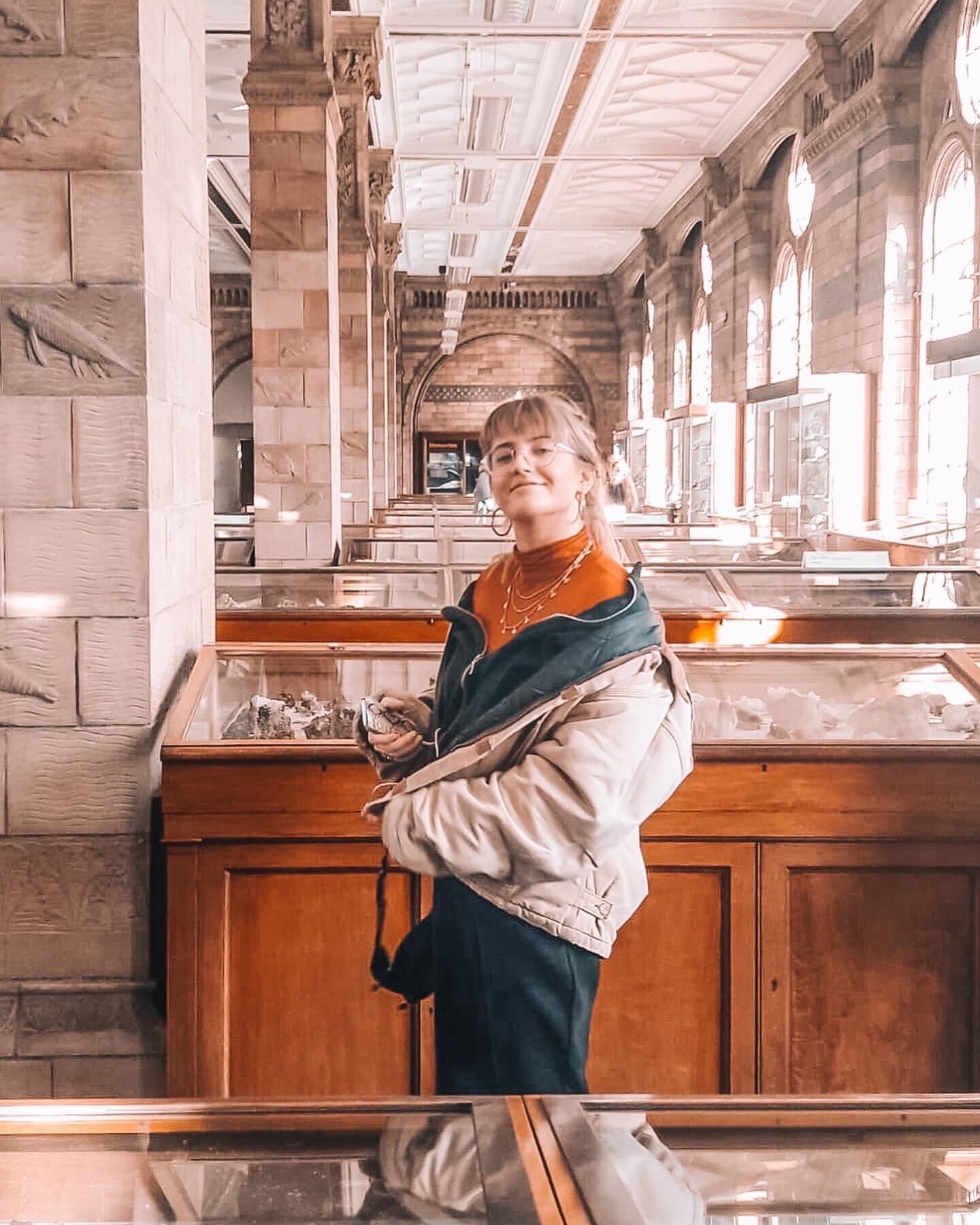 Raised between Germany and Italy, Nina is currently living in London studying towards a Masters in Human Rights at University College London and working as a freelance writer. She recently graduated from Bournemouth University in Multimedia Journalism where she wrote her dissertation on the representation of female political leaders in the tabloid media. Politics aside, she has a passion for everything fashion and beauty related