6 of the best foundations for dark skin tones
3rd February 2020 | Author:
Abi Adamson
When Rihanna debuted her inclusive Fenty beauty brand in 2017 specialising in cosmetics for all – from foundations for dark skin tones to blusher for fair skin and many more – she lamented the fact that there is still a void in the industry for products that perform across all skin types and tones.
Within a single brand, there can be literally dozens of tones for fairer skin, but less than a handful on the darker end of the spectrum despite the fact dark skin tones can be as varied and diverse. What's more, a broader range of dark tones is typically only available from premium brands, leaving black people who are on a budget stuck with a disappointingly limited choice.
READ NEXT: How to find your perfect foundation match online and in-store
With this in mind, we've selected what we consider to be the best foundations for dark skin tones with prices starting as low as £8.50. If there are any brands you swear by that we've not included below, let us know on Facebook!
For a number of these foundations, we refer to your skin's undertone. If you're unsure what undertone you have, we've detailed how to find out in our foundation match explainer.
Best foundation for dark skin
---
1. Editor's Pick: NARS Sheer Glow foundation
£33.50 | Buy now from Feelunique
Why we love it: Narsissist's Sheer Glow foundation is an absolute winner in our eyes, not just in terms of colour choice – there are more than 40 tones to choose from – but it's great for oily skin as well as uneven skin tones.
If you're not sure where to start, the NARS website doesn't just list the name of tones, it also explains which type of skin each particular colour will suit.
For example, its Manaus tone is for "deep skin with red undertones"; Zambie is for "deep to very deep skin with neutral undertones"; Punjab is for "medium skin tones with yellow undertones", and so on. Elsewhere, this foundation has a fantastic consistency that makes it easy to apply and this lets you build your coverage to suit your mood or occasion. If it's good enough for Naomi Campbell then who are we to say otherwise?!
Buy now from Feelunique
---
2. Best foundation for dark skin on a budget: Black Opal Perfecting Stick
£8.25 | Buy now from Beauty Bay
Why we love it: Long before Rihanna's Fenty hit the mainstream, Black Opal was pioneering the development of technologically skincare and cosmetics for women of colour.
Its first product launched in 1994 and its state-of-the-art solutions for hyperpigmentation, oil control and shade matching are now sold in more than 30 countries.
This foundation perfecting stick, aside from being ridiculously affordable, from Black Opal is perfect for those who don't necessarily want a full face of foundation, but more for a light touch-and-go. This makes it a handbag staple and is great for touchups and taking on holiday. Due to its thick consistency, one stroke is enough to provide coverage and the added SPF gives it an extra thumbs up.
Buy now from Beauty Bay
---
3. Best luxury foundation for dark skin: Giorgio Armani Luminous Silk
Why we love it: With 24 tones to choose from, and with each one being given a number rather than a name to help you quickly establish where on the spectrum from light to dark it sits, we can barely fault this foundation from Giorgio Armani.
Yes, it's expensive but we think it's worth every penny – it glides on like butter (without the grease) and manages to strike a perfect balance between your skin looking radiant yet matte. This gives your complexion a fresh glow and, as it says on the bottle, leaves it feeling just like silk. This foundation also features in our best foundation list.
Buy now from Look Fantastic
---
4. NYX Can't Stop Won't Stop foundation
From £15 | Buy now from NYX
Why we love it: NYX Professional is one of our favourite cheap makeup brands and for good reason.
It offers a wide range of cosmetics for all skin types and tones and regularly appears in our best makeup lists – from best eyeshadow palettes to best tinted moisturiser. What's great about this foundation is that it doesn't oxidise, meaning what you see in the bottle is what you get on your skin. It lasts all day, comes in 17 clearly-labelled tones, is fabulous for all skin types and it's vegan.
What a bargain!
Read more in our pick of vegan makeup brands and the difference between vegan and cruelty-free.
Buy now from NYX
---
5. Urban Decay Stay Naked
£23.60 | Buy now from Feelunique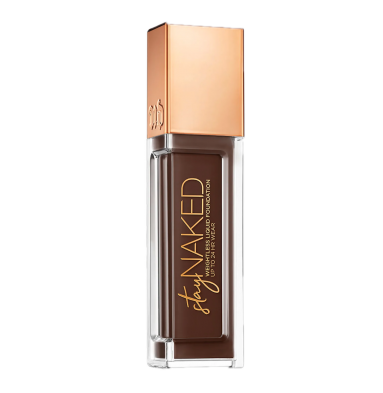 Why we love it: Used on the red carpet by many Hollywood makeup artists, it's easy to see why Urban Decay's Stay Naked is a fan favourite. It doesn't budge under the heat of numerous spotlights and it lasts all day. It's waterproof and many makeup artists with oily skin swear by this. Tone-wise, it's available in 50 shades with nine shade intensities – ultra fair (1), fair (2), light (3), light medium (4), medium (5), medium dark (6), dark (7), deep (8), ultra deep (9) – three mastertones – cool, neutral, warm – and seven undertones.
These seven undertones depend on which mastertone you are. Under Cool is Pink (Rosy), Plum (Blue) and Olive (Green), under Neutral is Neutral, and under Warm is Yellow (Golden), Orange (Peachy) and Red (Rich). When choosing a Naked Stay Foundation, this means that the colour 90WR, as an example, is a shade intensity of 9, or ultra deep with warm mastertone and a red undertone. Confused? Urban Decay offers a Find my Shade quiz on its website to help you decide.
READ NEXT: How to apply foundation like a pro: Tips from the experts
Feelunique offers a Try Me service which sends a sample pot with every foundation purchase. This means you can test the foundation using the sample and then keep the full-sized version, or send the full-sized version back unopened if it's not quite right and get your money back. Most other websites will not let you return a foundation once it's been opened. You can find out more on our foundation match page.
We're big fans of Feel Unique because it sells many of our favourite products at a discounted price and it's worth keeping an eye on our makeup sale page for the best bargains.
Buy now from Feelunique
---
6. black|Up Matifying Fluid Foundation
£29.50 | Buy now from Feelunique
Why we love it: Another fantastic brand fighting the good fight for people of colour is black|Up – a Paris-based brand specialising in cosmetics for tan and dark skin tones. Its Matifying Fluid foundation is one of the few that has a red undertone, which is why it's very popular among people of colour.
It's very thick so gives great coverage but is probably best for those with oilier skin as it does tend to dry the skin out. There are 18 tones to choose from – the lightest being suitable for tan skin with golden undertones, while the darkest is for the deepest skin tones with copper undertones.
Buy now from Feelunique
---
Don't miss out! Sign up for the mamabella newsletter today
---
MORE LIKE THIS
---
Abi is a lover of red lipstick and sparkly highlighters; a love that was born when she worked in Space NK whilst studying for her Film Degree. Fast forward a decade or so and when she's not co-hosting The Culture Reel podcast about film and cultural issues, she's writing passionate thought pieces about race matters and social justice.