Aldi Lacura adds eco-friendly makeup brushes to its fantastically cheap, vegan beauty range
19th April 2020 | Author:
Victoria Woollaston-Webber
UK supermarket Aldi sells a whole host of amazing beauty products under its Lacura brand. Products that rival those from premium brands that cost five to ten times as much. In January, it launched its first foray into vegan skincare and has now released it's first sustainable beauty range.
What's more, the company has made some of its sold-out or discontinued cult classics available to buy again, including its Lacura Miracle Cream, Lacura Moisture Boost, Hot Cloth Cleanser and Healthy Exfoliating Glow Tonic, for a limited time.
While most of these got snapped up also immediately when they launched online, they are also available in select stores as part of the brand's Specialbuys. But, as with all Specialbuys, once they're gone, they're gone!
Read on to discover more about the Aldi Lacura range.
READ NEXT: The best cruelty-free and vegan makeup
---
Lacura Eco range
The Lacura Eco range went on sale, online and instore on 12 April.
♥ Lacura Eco Thoughtful Brush Set
£5.99 | Buy now from Aldi
Lacura's new Thoughtful Brushes have vegan, synthetic bristles and their handles are made from biodegradable materials. The set includes four brushes: powder brush, angled blush brush, all-over shadow brush and an angled liner brush which doubles up an eyebrow brush for sharp, defined eyebrows. The brushes come in a zip pouch made from cotton and plant materials.
READ NEXT: Best makeup brushes
Aldi has also launched a sustainable, eco-friendly starter pack that contains three shower bars: a lime and ginger body wash, honey shampoo and a cherry blossom conditioner. These shower bars, akin to the bars made by the likes of Lush, allow you to ditch plastic and reduce waste without sacrificing quality and performance. You can read more about the Lush bars in our best shampoo and best conditioner pages. At the time of writing, though, it isn't appearing online and we have asked Aldi for clarification.
FURTHER READING: A beginner's guide to makeup brushes and what they're used for
Buy now from Aldi
---
♥ Lacura Vegan Day Cream
£5.99 | Buy now from Aldi
The Lacura 100% Naturally Derived Day Cream uses shea butter and coconut oil to support the natural balance of your skin and lock in moisture. Aldi claims it's particularly beneficial during the winter months when our skin becomes dry due to central heating.
Buy now from Aldi
♥ Lacura Vegan Eye Cream
£3.99 | Buy now from Aldi
Using the same combination of ingredients found in Lacura's Day Cream, albeit with a lighter texture, the Lacura 100% Naturally Derived Eye Cream has been created to help get rid of dark circles, nourishing the delicate skin beneath your eyes and making you look refreshed.
Buy now from Aldi
♥ Lacura Vegan Face Wash and Scrub
£2.99 each | Buy now from Aldi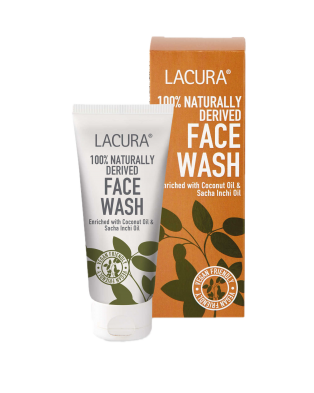 Both the Lacura 100% Naturally Derived Face Wash and its accompanying face scrub contain sacha inchi oil to help balance the skin. The Face Wash uses coconut oil to refresh the skin while the Face Scrub uses sweet almond oil to protect your skin as it gently exfoliates away dead skin cells and dirt.
Buy now from Aldi
♥ Lacura Vegan Hand and Nail Cream
£2.99 | Buy now from Aldi
Softened with shea butter and sweet almond oil, the Lacura Hand and Nail cream soothes the skin and helps recover even the driest of winter hands.
Buy now from Aldi
♥ Lacura Sheet Masks
£1.99 for a pack of two | Buy now from Aldi
Skincare experts recommend treating your skin to a face mask at least once a week but in reality, who has the time? That's why we're big fans of sheet masks because they can be applied and removed quickly, without washing, and can be worn as you get on with other tasks – albeit while looking a bit daft.
The four new natural variants of Lacura's sheet masks include a moisturising avocado sheet mask, a softening watermelon mask, soothing ginseng and a matcha mask.
Buy now from Aldi
Aldi's Lacura range is Leaping Bunny certified and the store is one of the few supermarkets in the UK and Ireland that guarantees its beauty ranges are never tested on animals. You can read more about the Leaping Bunny logo in our beginner's guide to vegan makeup.
Lacura skincare favourites
Aldi's re-released Lacura skincare products are each inspired by premium beauty brands such as Pixi, Yves Saint Laurent, Liz Earle, Clinique and Elizabeth Arden.
♥ Lacura Healthy Exfoliating Glow Tonic – £3.99
Said to be comparable to the cult beauty product from Pixi Beauty, the £18 Glow Tonic, Aldi's version, the Healthy Glow Tonic, is infused with aloe vera, ginseng and 5% glycolic acid to invigorate and tone all skin types. You can read more about the benefits of glycolic acid in our The truth about acids in your skincare guide.
♥ Lacura Miracle Cream – £3.99
The Lacura Miracle Cream is said to be akin to the Elizabeth Arden Eight Hour Cream. It's perfect for use all over, from chapped lips to dry cuticles or hands that are (hopefully) being repeatedly washed throughout the day.
♥ Lacura Moisture Boost – £4.99
The Lacura Moisture Boost, which works in a similar way to Clinique's £37 Moisture Surge, is oil and perfume free. The hydrating gel moisturiser contains aloe vera and green tea extract and can be used as a daily moisturiser, as well as a moisturising face mask when applied in thicker layers.
♥ Lacura Hot Cloth Cleanser – £3.99
Inspired by the Liz Earle classic Hot Cloth Cleanser, the Lacura version blends rosemary, chamomile, cocoa butter and eucalyptus oil to leave skin feeling clean and refreshed. The single tube of Hot Cloth Cleanser had sold out online at the time of writing, but the Hot Cloth Cleanser Gift Set was still on sale online for £7.99.
♥ Lacura Beauty Concealer Pen – £2.99
Similar to the somewhat iconic YSL Touche Eclat concealer, the Lacura Beauty Concealer Pen is an affordable and effective alternative. It's suitable for all skin types and is great when you want to get rid of dark circles, fine lines and other skin imperfections.
♥ Lacura Facial Rollers – £6.99
Available in either Rose Quartz or Jade, the Lacura Facial Rollers soothe skin for a relaxing at-home facial. Rose Quartz has been found to help relieve tension and stress, with a cooling sensation that creates a tightening effect across your face. While the Jade roller soothes inflammation with a cleansing and healing effect on any skin impurities. Both rollers can also be put in the fridge for extra comfort.
---
Don't miss out! Sign up for the mamabella newsletter today
---
MORE LIKE THIS
---