Aldi Lacura launches its first vegan skincare range – and it's ridiculously cheap
25th January 2020 | Author:
Victoria Woollaston-Webber
UK supermarket Aldi sells some amazing beauty products which rival brands that cost five to ten times as much, and now it's launched its first foray into vegan skincare with its Lacura range.
There are nine plant-based, cruelty-free products including sheet masks, a day and eye cream, face washes and scrubs and hand cream. All of these products are made from 100% natural ingredients, are suitable for all skin types and cost as little as £1.99.
This range launched on 23 January and is available in-store and online.
READ NEXT: The best cruelty-free and vegan makeup
---
§ Lacura Vegan Day Cream
£5.99 | Buy now from Aldi
The Lacura 100% Naturally Derived Day Cream uses shea butter and coconut oil to support the natural balance of your skin and lock in moisture. Aldi claims it's particularly beneficial during the winter months when our skin becomes dry due to central heating.
Buy now from Aldi
§ Lacura Vegan Eye Cream 
£3.99 | Buy now from Aldi
Using the same combination of ingredients found in Lacura's Day Cream, albeit with a lighter texture, the Lacura 100% Naturally Derived Eye Cream has been created to help get rid of dark circles, nourishing the delicate skin beneath your eyes and making you look refreshed.
Buy now from Aldi
§ Lacura Vegan Face Wash and Scrub 
£2.99 each | Buy now from Aldi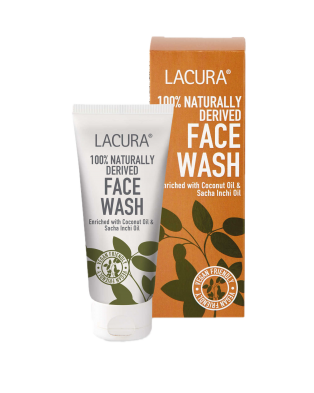 Both the Lacura 100% Naturally Derived Face Wash and its accompanying face scrub contain sacha inchi oil to help balance the skin. The Face Wash uses coconut oil to refresh the skin while the Face Scrub uses sweet almond oil to protect your skin as it gently exfoliates away dead skin cells and dirt.
Buy now from Aldi
§ Lacura Vegan Hand and Nail Cream
£2.99 | Buy now from Aldi
Softened with shea butter and sweet almond oil, the Lacura Hand and Nail cream soothes the skin and helps recover even the driest of winter hands.
Buy now from Aldi
§ Lacura Sheet Masks
£1.99 for a pack of two | Buy now from Aldi
Skincare experts recommend treating your skin to a face mask at least once a week but in reality, who has the time?  That's why we're big fans of sheet masks because they can be applied and removed quickly, without washing, and can be worn as you get on with other tasks – albeit while looking a bit daft.
The four new natural variants of Lacura's sheet masks include a moisturising avocado sheet mask, a softening watermelon mask, soothing ginseng and a matcha mask.
Buy now from Aldi
Aldi's Lacura range is Leaping Bunny certified and the store is one of the few supermarkets in the UK and Ireland that guarantees its beauty ranges are never tested on animals. You can read more about the Leaping Bunny logo in our beginner's guide to vegan makeup.
---
Don't miss out! Sign up for the mamabella newsletter today
---
MORE LIKE THIS
---