Best makeup brushes: The best natural and synthetic makeup brushes
23rd June 2020 | Author:
Libby Mewes
Choosing the best makeup brushes can be the difference between a flawless finish and a cakey complexion.
They're the unsung heroes of any makeup look and come in various options. Whether you're heading on a night out, for a picnic in the sun, or to work, your skin will thank you for using the best brushes there are.
READ NEXT: Best foundation brush
Below we've rounded up what we consider to be the best makeup brushes for different brands and each offers something a little different. However, if you're looking for the best foundation brush, we've got you covered. Or if you're just keen to know what makeup brushes are used for what, check out our makeup brushes guide.
Best makeup brushes
---
1. Editor's Pick: Morphe Pro Deluxe Buffer Blush
£16 | Buy now from Morphe
This affordable and durable brush from the makeup brush masters at Morphe can do almost anything.
It effortlessly applies and blends cream, liquid or powder foundation to create an entirely streak-free finish.
It can also be used to buff bronzer or powder into the curved areas of the face.
It is soft, lightweight, easy to clean and the shorter handle make it very easy to control. This is why it's our Editor's Pick.
Buy now from Cult Beauty
---
2. Budget Buy: Makeup Fan Brush by Superdrug
£5.99 | Buy now from Superdrug
Not only is Superdrug's B. collection of brushes well within budget (starting at just £5.99) but they are also entirely vegan, forgoing the use of animal hair.
The fan brush, in particular, is undeniably soft, lightweight and the perfect shape for a highlight or blush.
It also can act as an aid for brushing away any excess eyeshadow or removing setting powder from under your eyes after you've applied concealer.
You can read more about the wonders of the fan brush in our makeup brushes guide.
Buy now from Superdrug
---
3. Luxury Buy: Hourglass Vanish Seamless Finish Foundation Brush 
£42 | Buy now from SpaceNK
This pricier brush is our Luxury Buy.
Not only is the brush itself one of the best out there for applying foundation, but its small size makes it stand out from the others as the perfect brush for applying other liquid products, particularly concealers.
It also means it's a perfect size for your handbag or clutch on a night out.
READ NEXT: Best foundation makeup
Unlike many foundation brushes, this one does not shed bristles but still manages to be suitably soft – which should be an absolute given considering how expensive this brush is.
Because its bristles are short and the brush itself is thick, it does tend to become clogged up with product so you'll need to make sure you wash it regularly. You can find out more about how to clean makeup brushes here and the dangers of not doing so in our What's living in your makeup bag? article.
Buy now from SpaceNK
---
4. Real Techniques Core Collection
From £15 | Buy now from Amazon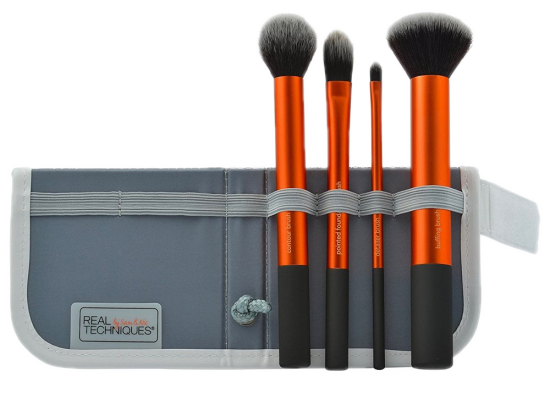 Purchasing a collection of brushes can be the perfect place to start when getting into makeup.
Real Techniques offers a number of options, but its 'core collection' provides affordable, durable and high-quality base products.
It includes a pointed brush to ensure an unblemished finish when applying liquid foundation, a buffing brush for powder or bronzer, and a contouring brush for the perfect finish, to name a few.
All in a handy carry case, making it the ideal makeup brush set to take to the gym or on holiday.
Buy now from Amazon
---
 4. Clinique Blush Brush
£24 | Buy now from Clinique
The shape of this brush initially may seem as though it wouldn't be well suited for powder blush or highlight, however, it has very quickly proven its abilities.
The size and quality of the bristles are perfect for swiping effortlessly across the cheek.
As if this wasn't already enough, the brush is also designed to keep bacteria at bay and has a beautiful glass-effect handle.
READ NEXT: What's living in your makeup bag?
If keeping your makeup tools clean is particularly of interest (and it really should be), read our guides on how to clean makeup brushes and how to clean beauty blenders properly.
Buy now from Clinique
---
5. MAC Cosmetics 239 Eye Shader brush
£21 | Buy now from MAC
MAC is renowned for creating the best eyeshadow brushes both for longevity and quality.
The 239 brush works with cream and powder eyeshadows and is incredibly effective at both blending and shading.
Having shorter, firmer and flatter bristles also means it is perfect for getting product neatly into the lash line.
And if you're a fan of MAC makeup, there is a page hidden on the official site selling cheap MAC makeup with up to 40% off. MAC products, and MAC brushes, occasionally make an appearance on our makeup sale roundup page, too.
Buy now from MAC
---
6. bareMinerals Brow Master Brush
This double-ended brow tool is well suited to both brow experts and relative novices.
The stiff-angled shape of the brush end allows precision and ease when drawing along the top and bottom lines of your eyebrows.
READ NEXT: How to get thicker eyebrows
While the 'spoolie' end complements the work the brush has done, allowing an easy finish and blend of colour helping any pair of eyebrows look natural and well maintained.
Buy now from bareMinerals
---
8. Fenty Beauty Face and Body Kabuki Brush
This brush is soft, completely multi-functional, and at just the right density for blending liquid and powder formula products with ease.
The custom-cut angle of the brush is ideal for covering and buffing curves on any part of the face or body.
It also has a chic finish, making it stand out from other brushes of its kind.
Not sure what qualifies as a Kabuki brush? Check out our makeup brushes guide.
Buy now from Harvey Nichols
---
9. Sigma F75 Concealer Brush
£13.20 | Buy now from Feel Unique
Sigma has been creating seamless and beautiful makeup brushes since 2009. Their motto is "drive to better your beauty routine sets". Every innovative beauty tool, texture, formula and cosmetic colour makes your life easier, more fun and uniquely-beautiful. All their brushes are vegan-friendly and cruelty-free.
When it comes to concealer brushes the best ones to use are flat shape ones, the shape of this will give you ease of control to contour around your eye and yet it's gentle enough to pat on the skin. This Sigma concealer brush you can use with cream or liquid concealer, giving you a seamless finish.
You can use this concealer brush to clean up around your eyes or lips because the tip of this concealer brush gives you great precision, this brush will give you a medium to full coverage when you're working in your concealer. When using your fingers to blend in your concealer we tend to be a little hard with the pressure to ensure we get enough coverage and to make it look seamless. When using a concealer brush you can get into the small corners around your eyes and using this to pat in your concealer makes it easier to use a beauty blender to smooth it out.
Buy now from Feel Unique
---
What's the difference between synthetic vs natural makeup brushes?
There are several differences between synthetic and natural makeup brushes so we asked eco-friendly beauty brand So Eco for some insights. 
Natural makeup brushes are often made from animal hair. This can be the hair taken from squirrels, goat, sable (hair from the tail of a weasel) and mink. Some feature horse and badger hair. Natural makeup brushes move more freely, grab more product in one swoop and tend to be better at blending.
However, synthetic bristles are versatile, they typically work better with liquids and creams and they're easier to clean because they can be sanitised with alcohol without drying the hairs.
So Eco is accredited by PETA and uses synthetic bristles, which are cruelty-free and suitable for vegans. Instead of animal hair, it uses an ultra-fine soft synthetic material called Taklon. Taklon is a hypoallergenic material designed to mimic the shape of fine natural hair.
It's kinder and more hygienic for your skin compared to animal hair which can often be more round hold more bacteria as it is more porous than synthetic fibres.
Read more in our guide: Natural vs synthetic makeup brushes: What's the difference?
---
Don't miss out! Sign up for the mamabella newsletter today
---
MORE LIKE THIS
---
Libby graduated from Bournemouth University with a degree in Multimedia Journalism. She's worked as a researcher and writer for Heart Radio as well as a features writer for a Somerset newspaper. She's since taken time out to travel, manage a hotel restaurant, do a lot of dog walking, and now works in London's West End
No comments found.